Megaliths Of Haut Languedoc
The megaliths of Haut-Languedoc are large stone statues, ranging from 1.30 to 4.00 metres in height, and usually made from gneiss. The stones are found in the mountain forests all over the regional natural park of Haut-Languedoc as well as in the neighbouring regional natural park of the Grandes Causses, and date from around 3000 BC.
Even though they are so old, new statues are being unearthed all the time, having been deliberately knocked over and buried when Christianity arrived in the area.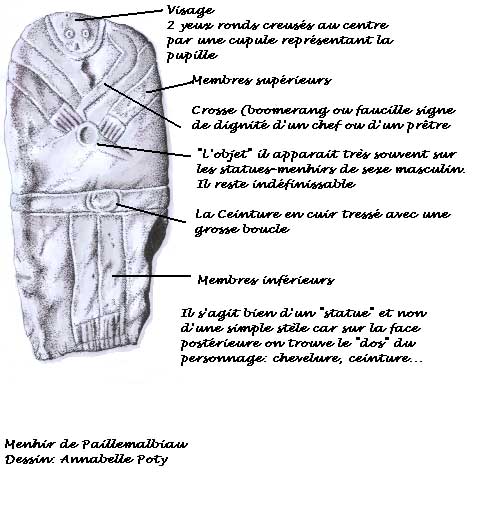 Sculpted with a quartz or granite tool, and polished with sand and water, the figures are of people, both male and female, usually wearing a woven belt around their waist, and have puzzled archaeologists since they were first studied.
Firstly because, where a face is recognisable on the figure, only the eyes and nose are represented, but never the mouth - hence their nickname of "Mute Gods".
And secondly because many of the figures are shown carrying a mysterious "object". The original of this object has been found on many of the excavated settlement sites, and takes the form of a triangle made of bone, about 20 centimetres long. But what was it?
Weapon, status symbol, musical instrument, tool? We may never know.
---
---
Why not visit our Art Wiki? You can read or write about art and artists. And even add a page about yourself…
".. Renoir, Picasso, Cubism, Renaissance art, Georges Seurat, Michael Asher, da Vinci, lautrec, leger, Joan Miro, Impressionism, Edvard Munch, Hans Holbein, Matisse, realism, rococo, baroque, Bosch art, Mark Rothko, orkin, poynter, pollock, Geoff Bunn art, Turner, Sol LeWitt, hirst, emin, Max Ernst, still-life, Richard Serra, landscapes, Primitivism, John Sargent, Madge Gill, pre-raphaelites, Conceptualism, Claude Monet, art brut, art povera, Mel Bochner, bridget riley, LS Lowry, Expressionism, modigliani, Marcel Duchamp, Victor Burgin, dada, surrealism and much more besides…"
page revision: 3, last edited: 29 Apr 2009 17:28